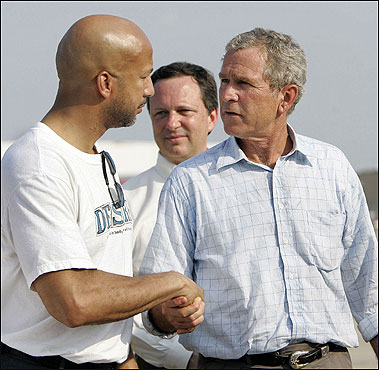 Congrats, Ray! You actually showed up somewhere! You made a big stink! You fucking pretended to care!
Jeebus this makes me sick.
Anybody that voted for this man should just go Herman Brood themselves right now, for the good of our city. Boulet, Couhig, and Watson should lead the way.
Ray, this job obviously bores the fuck out of you, and you aren't the slightest bit interested in it anymore. So resign! There's no shame in it…you won the election, you're a bidnessman and should have no problem finding another job (Houston beckons). I bet you can even cash in on this by writing your memoir! Get Chris Rose to ghostwrite.
But leave. Get the fuck out. I swear to the Lord my God we will put someone who cares in there. Someone competent. Somebody who gives a damn, and has the cojones to implement real change.
But this bullshit today just sucks.
What the fuck do you honestly think this will accomplish? Really, what?
You'll piss off the tourists, you'll piss off the locals, and you'll piss off the police officers. Yes, even more than you already have.
Let's get rid of all three of them…these living monuments to the peter principle: Nagin, Riley, and Jordan.
Special election: Landrieu for mayor, Bayard for chief, and hell, I dunno…somebody get Connick back in there. Get his son in there for all I care; he's got to be more trustworthy.
You will "allow NOPD to work on more serious crimes"? Bullshit. Total and complete fucking bullshit. If you cared, you'd get guys like Tim Bayard ("the best street cop I've ever been associated with, and his integrity is beyond reproach") away from behind the desk and back in charge. Maybe of the homicide unit if you really wanted to do something about it.
Starting a clergy program giving youth alternatives to crime? You gotta be fucking kidding me. Have you been living in English Turn for too long, Raymond?
Here's Ashley's plan to do something about it:
1. Don't pander to the public with bullshit like "we'll add cameras", "check your thug card at the city line". We see through that shit. Get a real police that the other officers respect to be in charge of the department. Bayard will work. Shit, Pennington would work. Get a real police in charge, and tell him what's important.
If he's real police, he already knows. It's not guys walking around with a 40. It's not people smoking a blunt on Frenchman street. It's all the murders, the armed robbery, the B&E, the assaults. A real police will prioritize this shit and do something about it.
Not just put dope on the damn table.
2. Get Jordan outta here. A 12% conviction rate on murderers should get your ass crucified. Totally fucking unacceptable. No fucking deals, no fucking pleas: you shoot somebody, your ass goes to Angola, and fast.
3. Get more good cops on the streets, and give them a community. We want to know the cops in our neighborhood, and they want to get to know us. The police need to have their finger on the pulse of a neighborhood, and we do need to get community policing and neighborhood watches working again.
4. Keep tabs on the migrant labor. This doesn't necessarily mean the people selling tortas out of roach coaches; this means the guys that get $1500 cash on Friday afternoon and plan to spend it all by Monday morning. To hell with the Karicians, the real problem is the Houstonians and others that come here to create their own private Idaho, complete with guns, liquor, and disrespect for all we hold dear.
Remember Dinerral Shavers. Remember Helinka Hill. Don't let sons of bitches like Ray Nagin let them die in vain.
Let's see some real change. Let's see some real leadership.
Yes, I'm pissed off. The whining and fear is over. Yes, I'm at the point where I'm really gonna fight for my city. I don't want the fuckmooks like Nagin, that have enough money that they can live anywhere in the cosmos taking my city away from me.
But what do I know. I'm just the jive-ass honky from Black Pearl.
pix from nola.com, dave, and michael
Edit: also remember Steve Blair, Monier Gindy, Corey Hayes, Eddy Saint Fleur, Don Morgan, Jealina Brown, and Larry Glover. H/T Mac.