Berto is upset: since I cut my flowing locks, I can't headbang like I used to.
Today, our New Orleans Saints wore all black uniforms for the first time in about 4 years or so. Maybe we'll even bring out black helmets in the future.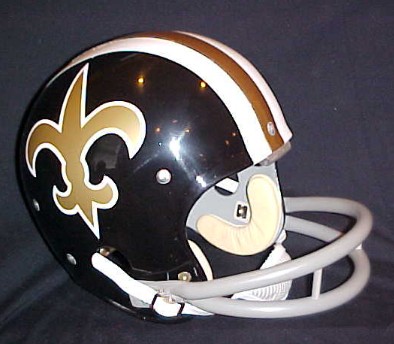 The black pants had a slimming effect, which made Mr. McKenzie look somewhat birdlike, and Mr. H. Thomas positively svelte.
OK. Not svelte, but they are slimming.
In any case, the joy of community was felt in the dome again today. Everyone felt it. You bump into someone, and both of you apologize to each other. It was a fine start to December.
Chef Who Dat had some fine items on the menu, including a niner etouffee featuring Rice. Not rice-a-roni. The Deuce was loose, and Mr. Bush outperformed Mr. Gore by a long shot. The dreadlocked one was exceptional.
And to think, people laughed at my prediction of 11-5 in the pre-season.
On the menu next week: Tony Romo's ribs. Yummmmmm.